With your support on our 25th Anniversary year, we will be able to increase artistic activities to a diverse, multi-generational group of creative individuals and groups within the community. We are asking Alexandria area businesses to become Corporate Silver Supporters with a $250 donation in support of our silver anniversary.
We will recognize your support of Del Ray Artisans in a number of ways:
Listing in a newsletter issue and all year on our website
Special recognition at our 25th Anniversary events and in our programs
Listing on a wall plaque at Del Ray Artisans' gallery
A framed certificate for your business
A 2017 Del Ray Artisans art calendar
Thank you for your time and your dedication to making the Alexandria community an inspiration where together creativity and enterprise thrive.
Thank you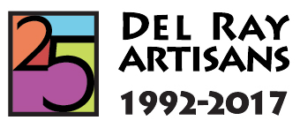 Special thanks to our 2017 Corporate Silver Supporters:
Affordable Signs & Banners
2100 Jefferson Davis Highway, Alexandria, VA 22301
703-836-4199
Alexandria Picture Framing
110 S Fayette St, Alexandria, VA 22314
703-684-1262
Bobi Bomar's Homes of Alexandria
bobibomar@aol.com
703-927-2213
Cheesetique
2411 Mount Vernon Avenue, Alexandria, VA 22301
703-706-5300
Cosmopolitan Boat Club
Attn: Victor Roy, 3505 Cameron Mills Rd, Alexandria, VA 22305

Del Ray Smiles
4 Herbert Street, Suite A, Alexandria, VA 22305
703-836-2213
Forum One
2200 Mount Vernon Avenue, Alexandria, VA 22301
703-548-1855
Sue and Allison Goodhart, The Goodhart Group
sue@thegoodhartgroup.com, allison@thegoodhartgroup.com
703-362-3221
La Brocante
1904 Mount Vernon Avenue, Alexandria, VA 22301
703-850-5559
Let's Meat on the Avenue
2403 Mount Vernon Avenue, Alexandria, VA 22301
703-836-6328
Los Tios Grill
2615 Mount Vernon Avenue, Alexandria, VA 22301
703-299-9290
Rosemont Landscaping & Lawncare, LLC
3308 Mount Vernon Avenue, Alexandria, VA 22305
571-215-1275
Stomping Ground
2309 Mount Vernon Avenue, Alexandria, VA 22301
703-364-8912
Pork Barrel BBQ
2312 Mount Vernon Avenue, Alexandria, VA 22301
703-822-5699