When:
August 20, 2017 @ 5:00 pm – 7:00 pm
2017-08-20T17:00:00-04:00
2017-08-20T19:00:00-04:00
Where:
Del Ray Artisans Gallery
2704 Mt Vernon Ave
Alexandria, VA 22301
USA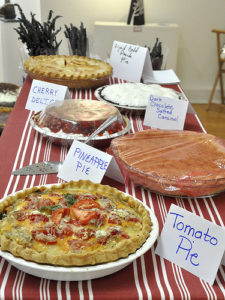 Join fellow artists and friends at the annual Pie Contest, Indoor Picnic, and Summer Member Meeting on Sunday, August 20 from 5-7pm. Prepare a savory or sweet entry for the pie contest or sign up to be a judge and get first sample of the delicacies. There will be prizes for both sweet and savory pies.
In addition to the Annual Pie Contest, we'll have an indoor picnic with the neighborhood Pork Barrel BBQ, and enjoy (after the pie contest judging) pies for dessert! Preceding the picnic will be a short meeting with information on upcoming events and the fall exhibit schedule. Plan to be there for the fun and comradery!
Please RSVP to help the organizers plan the food and beverage quantities. If you RSVP before August 18, you will be entered into a drawing to win a Door Prize!
If you have any questions or to RSVP, contact Drew Cariaso at Membership@DelRayArtisans.org.