When:
October 7, 2017 @ 10:00 am – 6:00 pm
2017-10-07T10:00:00-04:00
2017-10-07T18:00:00-04:00
Where:
Del Ray Artisans Gallery
2704 Mt Vernon Ave
Alexandria, VA 22301
USA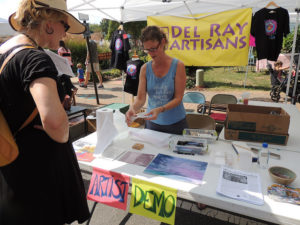 Along Mount Vernon Avenue in Del Ray on Saturday, October 7 from 10am-6pm, you'll find: Art on the Avenue, a multicultural arts festival celebrating our community's diversity through the arts in Alexandria, Virginia. There will be entertainment for all ages, art activities, food and over 300 artists displaying and selling their work all along Mount Vernon Avenue. Art on the Avenue is sponsored by the Del Ray Business Association.
Support Del Ray Artisans Members, Local Artists
Many Del Ray Artisans members are juried into Art on the Avenue. Please be sure to visit their booths: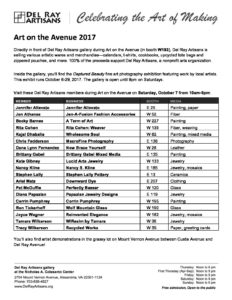 Jennifer Allevato (Booth E25; Painting, paper)
Jen Athanas, Jen-A-Fusion Fashion Accessories (Booth W52, Fiber)
Becky Barnes, A Term of Art (Booth W227, Painting)
Rita Cohen, Rita Cohen: Weaver (Booth W139; Fiber, weaving)
Kajal Dhabalia, Wholesome Soul (Booth W82; Painting, mixed media)
Chris Fedderson, MacroFine Photography (Booth E136; Photography)
Lynn Fernandez, Now Brace Yourself (Booth W28, Leather)
Brittany Gabel, Brittany Gabel Mixed Media (Booth E135, Painting)
Kate Gibney, Lucid Arts Jewelry (Booth W133; Jewelry)
Nancy Kline (Booth E185; Jewelry, mosaics)
Stephen Lally, Stephen Lally Pottery (Booth E13; Ceramics)
Ariel Matz, Downward Dye (Booth E207; Clothing)
Pat McDuffie, Perfectly Bazaar (Booth W120; Glass)
Beverly Owen (Booth E176; Painting)
Diana Papazian, Papazian Jewelry Designs (Booth E119; Jewelry)
Corrin Pumphrey (Booth W195; Painting)
Ron Tickerhoff, Wolf Mountain Glass (Booth W190; Glass)
Tamara Wilkerson, WiRealm by Tamara (Booth W36; Jewelry)
Tracy Wilkerson, Recycled Works (Booth W35; Paper, greeting cards)
Artists at Work
Artist demonstrations will no longer be in front of the gallery, but will be held in tents in the designated artist demonstration area, located in the grassy lot between Custis Ave and Del Ray Ave. All of the artist demo tents will be clustered together in this designated area, complete with street signage and a spotlight in the festival program. Come see these Del Ray Artisans members demonstrate:
Nancy Carolina Flores (Artist Demonstration; Painting)
Jeff Lodge, Jeff Lodge Studio (Artist Demonstration; Painting)
Linda Lowery (Artist Demonstration; Painting)
Joyce Wagner, Reinvented Elegance (Artist Demonstration; Mosaics)
For more information on Art on the Avenue, visit: www.ArtOnTheAvenue.org
Art Bazaar & Fundraising
Directly in front of the gallery during Art on the Avenue, Del Ray Artisans will be displaying and selling various artistic wares and merchandise—calendars, t-shirts, cookbooks, bags, etc. If there are any artists who wish to donate their art works or wares to Del Ray Artisans, please get in touch with Sophia at Outreach@DelRayArtisans.org. 100% of proceeds support Del Ray Artisans.
Art Exhibit
Inside the gallery, you'll find the Captured Beauty Fine Art Photography Exhibition featuring art by local artists. The gallery is open until 9pm on Saturdays.