Oct
7
Sat
2017
Art on the Avenue

@ Del Ray Artisans Gallery
Oct 7 @ 10:00 am – 6:00 pm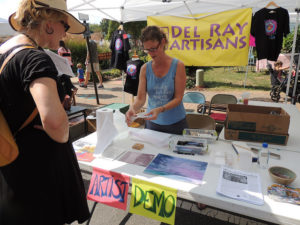 Along Mount Vernon Avenue in Del Ray on Saturday, October 7 from 10am-6pm, you'll find: Art on the Avenue, a multicultural arts festival celebrating our community's diversity through the arts in Alexandria, Virginia. There will be entertainment for all ages, art activities, food and over 300 artists displaying and selling their work all along Mount Vernon Avenue. Art on the Avenue is sponsored by the Del Ray Business Association.
Art Bazaar & Fundraising
Directly in front of the gallery during Art on the Avenue, Del Ray Artisans will be displaying and selling various artistic wares and merchandise&emdash;calendars, t-shirts, cookbooks, bags, etc. If there are any artists who wish to donate their art works or wares to Del Ray Artisans, please get in touch with Sophia at Outreach@DelRayArtisans.org. 100% of proceeds support Del Ray Artisans.
Art Exhibit
Inside the gallery, you'll find the Captured Beauty Fine Art Photography Exhibition featuring art by local artists. The gallery is open until 9pm on Saturdays.
Artists at Work
Artist demonstrations will no longer be in front of the gallery, but will be held in tents in the designated artist demonstration area, located in the grassy lot between Custis Ave and Del Ray Ave. All of the artist demo tents will be clustered together in this designated area, complete with street signage and a spotlight in the festival program. Artist Demonstrations will be organized by Art on the Avenue volunteers.
Any Del Ray Artisans artists interested in hosting a demonstration booth at Art on the Avenue must fill out the form or contact Sophia at Outreach@DelRayArtisans.org for more info. Note: The standard artist booth fee ($195) is WAIVED for artist demonstrators.
Support Del Ray Artisans Members, Local Artists
Many Del Ray Artisans members are juried into Art on the Avenue. Please be sure to visit their booths. Stay tuned for the 2017 list!
These are the members who participated 2016:
Jennifer Allevato (Booth E21; Painting, paper)
Rita Cohen, Rita Cohen: Weaver (Booth W139; Fiber, weaving)
Kajal Dhabalia, Wholesome Soul (Booth W82; Painting, mixed media)
Randy Estabrook, Brown Dog Clay Studio (Booth E162; Ceramics)
Chris Fedderson, MacroFine Photography (Booth E136; Photography)
Kate Gibney, Lucid Arts Jewelry (Booth W133; Jewelry)
Monica Hokeilen (Booth E6; Painting)
Kim S. Joy (Booth W172; Jewelry, glass)
Stephen Lally, Turners and Burners (Booth E15; Ceramics, wood)
Diana Papazian, Papazian Jewelry Designs (Booth E159; Jewelry)
Ron Tickerhoff, Wolf Mountain Glass (Booth W190; Glass)
Joyce Wagner, Reinvented Elegance (Booth W182; Jewelry, mosaics)
Laura Whitaker, Hammered & Corked (Booth W26; Jewelry)
For more information on Art on the Avenue, visit: www.ArtOnTheAvenue.org
Nov
23
Thu
2017
Community Turkey Trot
Nov 23 @ 9:00 am – 12:00 pm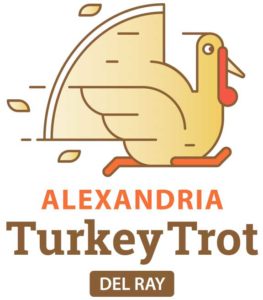 The 42nd Alexandria Turkey Trot is a 5-mile run/walk on Thanksgiving Day that follows the roads of Del Ray starting and ending at George Washington Middle School at the corner of Braddock Road and Mount Vernon Avenue.
The gallery is closed on Thanksgiving Day (Thursday, November 23, 2017), but open the remainder of the weekend. Visit the Friday-Sunday during gallery hours to check out the current show, Under $100.