Aug
20
Sun
2017
Pie Contest, Indoor Picnic and Summer Member Meeting

@ Del Ray Artisans Gallery
Aug 20 @ 5:00 pm – 7:00 pm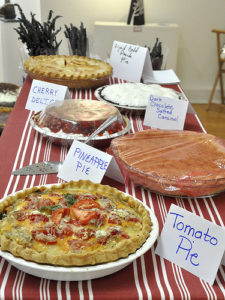 Join fellow artists and friends at the annual Pie Contest, Indoor Picnic, and Summer Member Meeting on Sunday, August 20 from 5-7pm. Prepare a savory or sweet entry for the pie contest or sign up to be a judge and get first sample of the delicacies. There will be prizes for both sweet and savory pies.
In addition to the Annual Pie Contest, we'll have an indoor picnic with (after the pie contest judging) pies for dessert! Preceding the picnic will be a short meeting with information on upcoming events and the fall exhibit schedule. Plan to be there for the fun and comradery!
If you have any questions, please contact Drew Cariaso at Membership@DelRayArtisans.org.
Oct
19
Thu
2017
Del Ray Artisans Annual Member Meeting with Elections

@ Del Ray Artisans gallery
Oct 19 @ 7:00 pm – 9:00 pm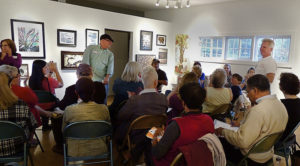 Thursday, October 19, 2017 from 7-9pm
We have a full agenda planned for you during the Annual Member Meeting! This will be your opportunity to hear information about all the shows planned for 2018. The President will present a special message about the organization. The Annual Meeting also includes elections for the 2018 Board of Directors, and a light supper will be served. If you have any questions, please contact Drew Cariaso, Director of Membership, at Membership@DelRayArtisans.org.
Vote in Person or by Proxy
All members are invited to attend, and "Members in Good Standing" will be able to vote—an excellent chance to renew your membership if you haven't already.
If you cannot attend, we urge you to make a Proxy vote. Please do this by emailing your vote (you can vote yea or nay for the entire slate or individual candidates) to Secretary@DelRayArtisans.org by Sunday, October 15 at 6pm, or by calling the gallery at 703-838-4827 on Thursday (10/12) or Friday (10/13) between noon and 6pm. All proxies must be received by Sunday, October 15 at 6pm to be counted.
Slate of Nominees
Here is the current slate of nominees for Del Ray Artisans' 2018 Board of Directors: TBD
If you are interested in running for a Board Position or have questions, contact the volunteer Nominating Committee or Office Manager at Gallery@DelRayArtisans.org. The new Board will begin its duties on January 1.